The language from the land of islands and lakes
Trevligt att se dig! – Good to see you.
Swedish (Svenska) belongs to the North Germanic languages together with Icelandic, Faroese, Norwegian and Danish. These are also called Nordic languages and evolved from Old Norse. The Swedish language is spoken by just over 10 million natives. About 6% of them belong to the Swedish-speaking population in Finland, the so-called Finnish Swedes. Due to the close historical ties between Sweden and Finland, Swedish is the second official language in Finland after Finnish.
No matter whether shelves, tables or sofas – thanks to its famous yellow-blue furniture stores, it is hard to imagine a German household without a touch of Sweden. Typically Swedish, the company dispenses with a formal form of address and likes to address its customers informally. Whether student and teacher or employee and boss – since the "You-reform" in the 1960s, informal forms of address became generally preferred to formal ones and the Swedes have mainly been on a "first-name" basis. This is intended to reduce distance and enable people to talk to each other at eye level.
How are you?   Hur mår du?
I'm fine.   Jag mår bra.
This also applies to the close and friendly economic relations between Germany and Sweden. About 20% of the goods imported into Sweden, such as vehicles, vehicle components, machinery or electronics, come from Germany. But Germany is not only important for Sweden as a supplier. This is because about 10% of exports from Sweden, such as paper and paper items, pharmaceutical and chemical products, vehicles, electrical machinery and equipment, go to Germany. 
In order to be sold in the EU, many technical products require CE marking. The CE mark is an EU mark indicating that a product complies with the essential health and safety requirements of the applicable European directives.
Before the CE mark can be affixed to a product, both a conformity assessment procedure and the issue of an EU declaration of conformity are required.
"CE" stands for "Communauté Européenne" (French for "European Community"). By affixing the CE mark, the manufacturer declares on his own responsibility that his product has been inspected in advance (either by himself or, if necessary, by a notified body), that it meets all requirements of the applicable EU regulations and that it may therefore be sold within the European Economic Area.
The preparation of technical documentation and the associated EU declaration of conformity are essential, as the information contained therein serves as proof of the product's conformity with the applicable regulations. The technical documentation shall be established before the product is placed on the market. After the product has been placed on the market, it must also be made available to market surveillance authorities on request.
In addition, it is usually necessary to provide the technical documentation (e.g. operating instructions or maintenance instructions) in the language of the respective EU country in which the product is sold. The linguistic quality of the instructions plays a major role in this.
COMLOGOS can gladly support you in mastering the increasing number of translations required for this purpose. As a translation agency we offer you high-quality technical translations for specialist areas such as plant engineering, mechanical engineering, electronics, but also specialist areas such as automotive, marketing, law and chemistry.
We work with over 350 qualified native speakers and offer you excellent translations in the quality level you require. Our Swedish language experts ensure that you are able to become successfully established in Swedish-speaking countries.
Possible language combinations:
Swedish – German
German – Swedish
Swedish – English
English – Swedish
Do you need a translation into or from Swedish? We will provide you with an individual and free quote. If the language combination you require is not listed here, please contact our project management team. We will be happy to inform you about other possible language combinations.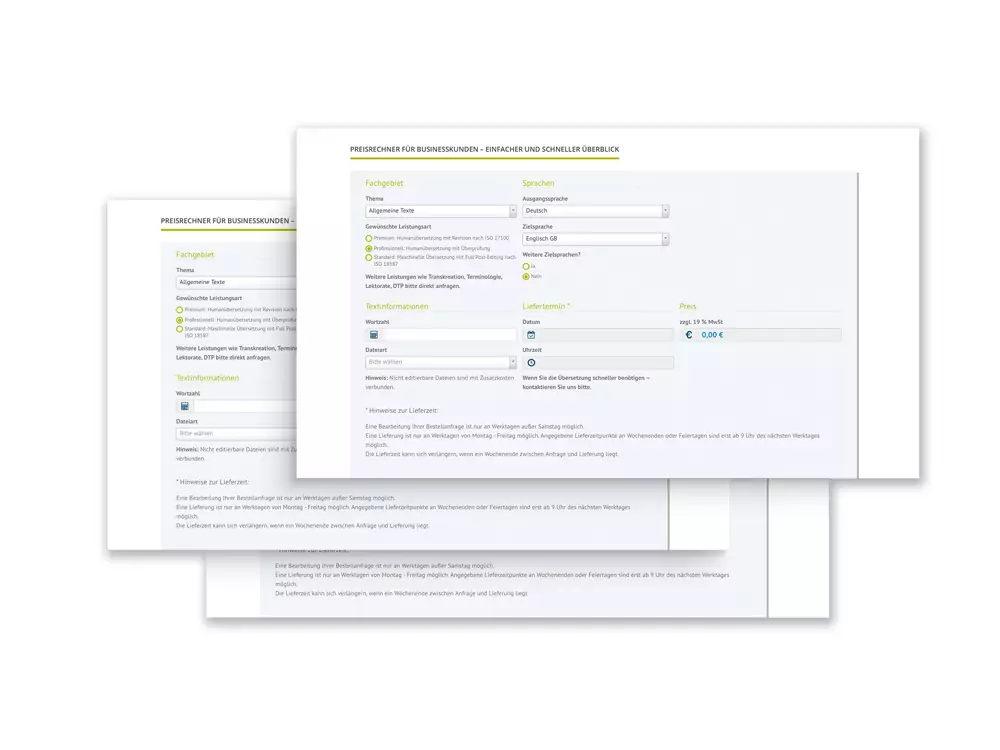 Our price calculator provides quick cost information
To get a quick overview, use our price calculator with quotes for many language combinations and different types of services.
Translation-oriented writing: Examples
Examples from the everyday life of a translator. Translation-oriented writing is good for every text. I don't know about you, but I love reading real-life examples.
Impressive feedback from our customers
In November/December 2021, we conducted a customer satisfaction survey among our customers. Many thanks to all who participated!