The language from the land of the fjords and moose
Together with Swedish, Danish, Icelandic and Faroese, Norwegian (Norsk) belongs to the North Germanic languages, which evolved from Old Norse and are also called Nordic languages. The Norwegian language is spoken by about 5 million native speakers and is the official language in Norway. Furthermore, Norwegian, Danish and Swedish are the three working languages in the Nordic Council, a forum of the Nordic countries.
There are four standardised language varieties in Norwegian, Bokmål (Book Language), Riksmål (National Language), Nynorsk (New Norwegian) and Høgnorsk (High Norwegian). Of these, however, only Bokmål and Nynorsk are now officially recognised standard varieties. Both varieties are written languages, with Bokmål being written by the majority of Norwegians (approx. 85-90%). However, both language varieties are spoken by almost nobody, but usually the respective regional dialect.
According to the World Happiness Report, Norwegians are the happiest people in the world. This is probably also due to their serenity and cosiness (Kos). Norwegians also live in close touch with nature. By the freedom to roam, the Allemannsrett, everyone is allowed to move freely in nature, i.e. in unfenced land, and also to camp – as long as you do not spend more than two nights in the same place and keep a distance of 150 metres to the next house or cabin.
Norwegians like to spend their free time in their weekend or holiday home, the hytte, which is usually situated by the lake, the sea or in the mountains. There they have the opportunity to go sailing, fishing and hiking, which offers them a balance to their daily working life. However, work has a different value in Norway than it does in Germany and is only seen as a source of income to finance leisure activities.
The Norwegian serenity is also reflected in their work life – they have flat hierarchies and everyone is on a first-name basis. The only exception is the Norwegian royal family. Apart from that, everyone is at eye level, the Norwegian term for this is Janteloven, the law of Jante. This code of conduct in terms of social interaction applies not only in Norway, but in the entire Scandinavian region. It says that all are equal. The Norwegians frown upon thinking they are better or smarter than others – showing off is undesirable.
High-quality Norwegian translations with COMLOGOS
Norway's export goods include machinery, electrical engineering, medical equipment, measuring instruments, metal products and food (fish and seafood). But more than 60%, and thus Norway's absolute export hit, is made up of oil and gas products. From Germany, one of Norway's most important trading partners, mainly machines, vehicles as well as chemical and pharmaceutical products are imported.
Due to worldwide trade relations with Norway, there is a high demand for high-quality technical translations. As a translation agency with a data pool of over 350 native-speaking and qualified translators, we offer you excellent translations for specialist areas such as automotive, plant engineering, mechanical engineering, electronics, marketing, law, renewable energies, pharmaceuticals, chemicals and medical technology.
Frequently requested language combinations:
Norwegian – German
German – Norwegian
English – Norwegian
Norwegian – English
Your desired language combination into or from Norwegian is not listed here? Then please contact our project management team. We will be happy to inform you about other possible language combinations.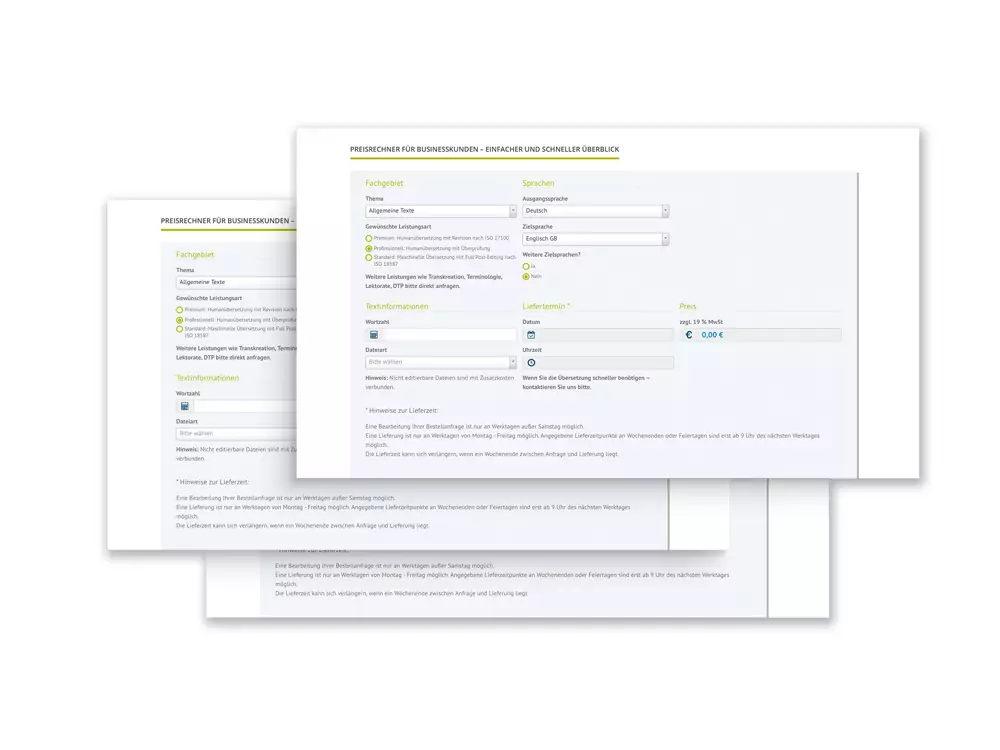 Our price calculator provides quick cost information
To get a quick overview, use our price calculator with quotes for many language combinations and different types of services.
Translation-oriented writing: Examples
Examples from the everyday life of a translator. Translation-oriented writing is good for every text. I don't know about you, but I love reading real-life examples.
Impressive feedback from our customers
In November/December 2021, we conducted a customer satisfaction survey among our customers. Many thanks to all who participated!