The language from the land of opposites
Head päeva! Meeldiv tutvuda. – Hello! Nice to meet you.
Estonia (Eesti) with the capital Tallinn is a country in the Baltic States and has about 1.3 million inhabitants. With an area of 45.339 km, the relatively small state borders Latvia, Russia and the Baltic Sea. More than half of the country is covered by forests, hills and moors. Surprisingly, Estonia also has more than 2.000 islands. The climate is cool to frosty in winter and moderately warm in summer.
However, Estonia cannot only score points with its nature. The small state, whose land area is smaller than that of Lower Saxony, also plays a pioneering role in terms of digitalisation. This is partly due to the full-coverage Internet infrastructure and partly to the fact that, for example, administrative procedures, elections and payments are effected in digital form. The completely paperless government and the schools are also going digital.
The Estonian language is related to Finnish and is spoken by about 950.000 people in Estonia. Other speakers of this language can also be found outside Estonia.
The Estonian alphabet includes the following letters:
a, b, c, d, e, f, g, h, i, j, k, l, m, n, o, p, q, r, s, š, z, ž, t, u, v, w, õ, ä, ö, ü, x, y
A peculiarity of Estonian is that there are no grammatical genders. Instead of "he", "she" and "it" in English, Estonian only knows "tema". Consequently, no distinction is made between the female and male form. This is also reflected in the designation of professions. Thus, "advokaat" can be used both for the German word "Anwalt" (male lawyer) and "Anwältin" (female lawyer).
German-Estonian relations
The Germans and the Estonians maintain a close and friendly relationship in cultural and economic terms. The roots of this relationship go back to the Middle Ages, when a German-speaking minority, the Baltic Germans, settled in Estonia and strongly influenced Estonian society, religion, language and culture.
Despite Estonia's small size, the country is experiencing good economic growth. Germany is an important trading partner for Estonia: 8% of exports go to Germany and 13% of imports come from Germany.
The country's well-developed digital infrastructure and active trade with other European countries have led to an immense interest in first-class technical translations.
Requested language combinations to and from Estonian:
Estonian – German
German – Estonian
Estonian – English
English – Estonian
Your desired language combination into or from Estonian is not listed here? Then please contact our project management team. We will be happy to inform you about other possible language combinations. Your Estonian technical translations will be carried out exclusively by native-speaking technical translators.
In order to provide you with high-quality translations, we regularly evaluate our translators and revisers according to various criteria, such as their linguistic and technical skills. We serve the following industries and specialist fields: automotive, automation technology, medical technology, marketing, law, plant engineering, medicine, engineering, chemistry, measurement technology, renewable energies, pharmaceutics, electrical engineering, IT, software, robotics and mechanical engineering.
We look forward to receiving your enquiry. – Ootame teie järelepärimist.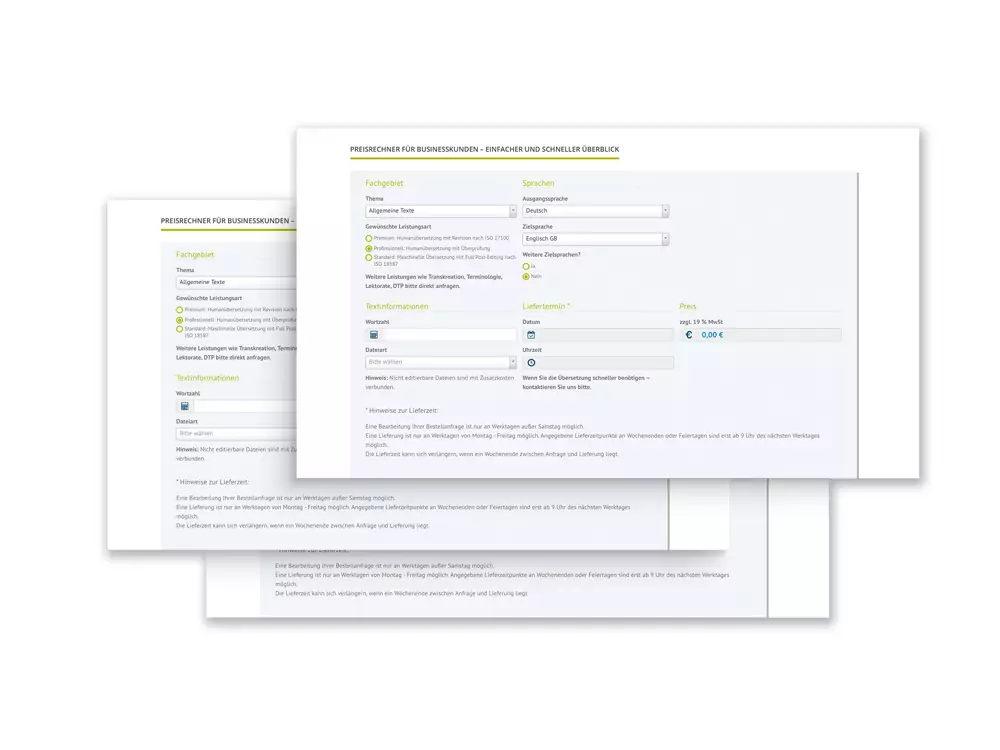 Our price calculator provides quick cost information
To get a quick overview, use our price calculator with quotes for many language combinations and different types of services.
Translation-oriented writing: Examples
Examples from the everyday life of a translator. Translation-oriented writing is good for every text. I don't know about you, but I love reading real-life examples.
Impressive feedback from our customers
In November/December 2021, we conducted a customer satisfaction survey among our customers. Many thanks to all who participated!